A collective weight has burdened the world since recent upheavals in global economies and areas of conflict, adding to the usual troubles brought by the everyday. More than ever, there is a need to balance things out and get relief from the mundane struggles that cause stress and anxiety. Wherever we see a chink of light, darkness is ripped asunder, heaviness lessened somehow with hope; if only there were a way for light to gain mass and weight, become hefty enough to defeat all shadows.
In Heavy Light at Kaida Contemporary, Vladimir Grutas and Rhex Dacaymat take on the challenge to defeat darkness with colors and a shift towards the bright. Dacaymat is known for his stark depiction of petrified tree limbs and branches anchored to their shadows in grayscale. His recent works welcome additions of pockets of intense rainbows, splashes, and drips of thin glaze that add depth to a multi-planed surface compressed into flatness. Incursions of graphite markings mimic ashes rubbed on paper, the artist's painted branches reduced to coal smudges.
When asked about his pieces, Dacaymat cites the false hopes and promises common in campaigns. His random colored images represent assurances and covenants set by the mighty not to relinquish their grasp on power. For masters of deception, emotional manipulation comes at the snap of a finger, impassioned speeches invoking faith from believers en masse. Ultimately, the reality remains black and white, unchanged by forgotten pledges and neglect.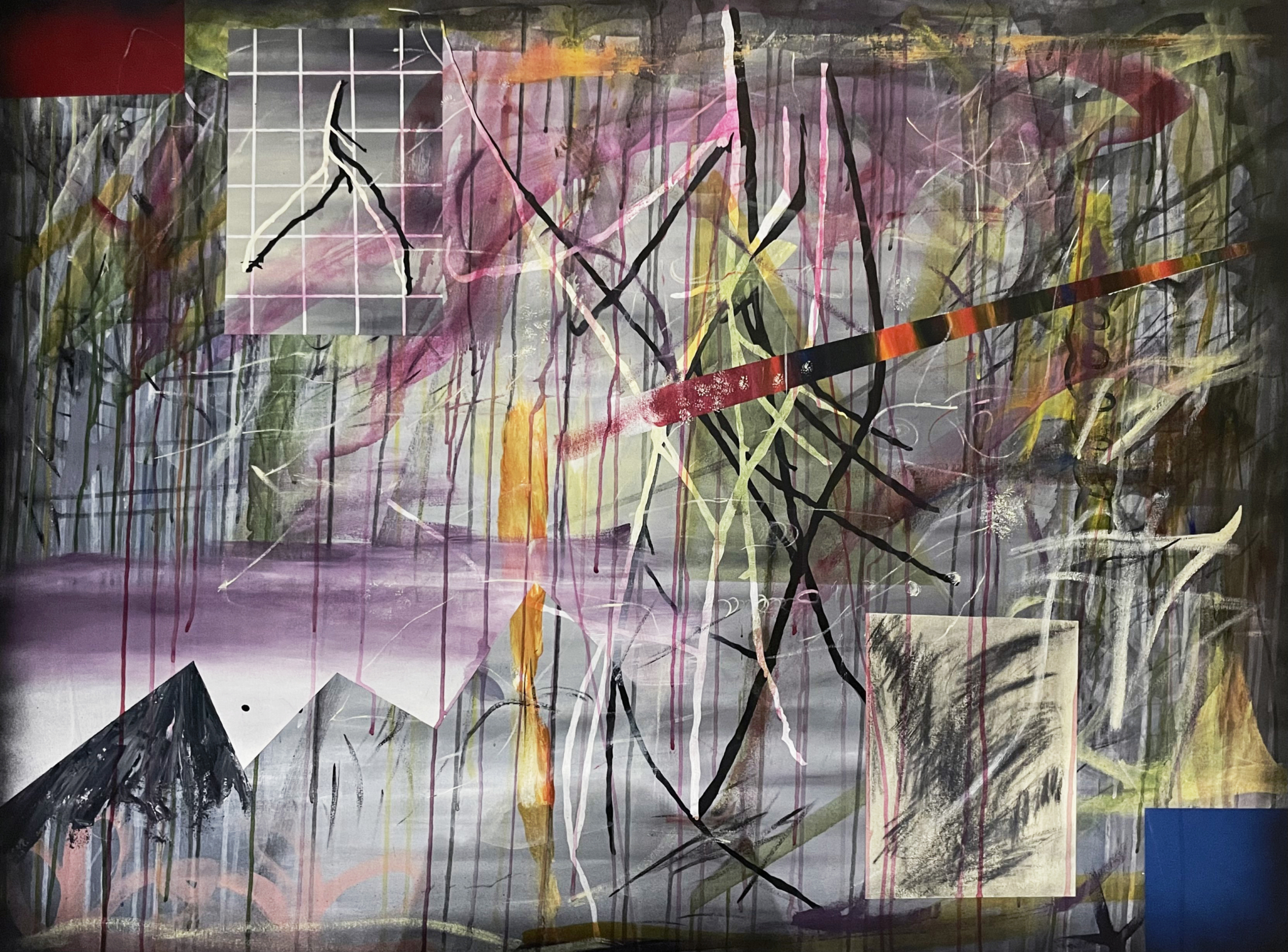 For Grutas, however, what pervades his pieces is a constant process of seeking light. His monoprints depict instances when obscurity is disturbed by flashes of luminosity: a light box that leads the way to a portal leading outside in Exit, a beam that shows ships at sea the way in Tagpuan (Meeting Place), the silver lining surrounding a bleak island-like cloud in Banaag (Glimmer), a flash of gunfire in Boga (Gun), a glimpse of life watched over in an apparatus-controlled room in Monitor and a burgeoning fire that invites the addition of tinder and more kindling in Gatong (Fuel). A Molotov cocktail hurler, Light Giver, evokes illumination with flames, disrupting murkiness with brute strength and self-sacrifice. Grutas prepares swathes of paint on a flat surface, then removes portions of it painstakingly with cotton and cloth as the artist coaxes his images to life by deliberately rubbing out negative space into the black. These result in highly graphic renderings unachievable by brushwork on canvas.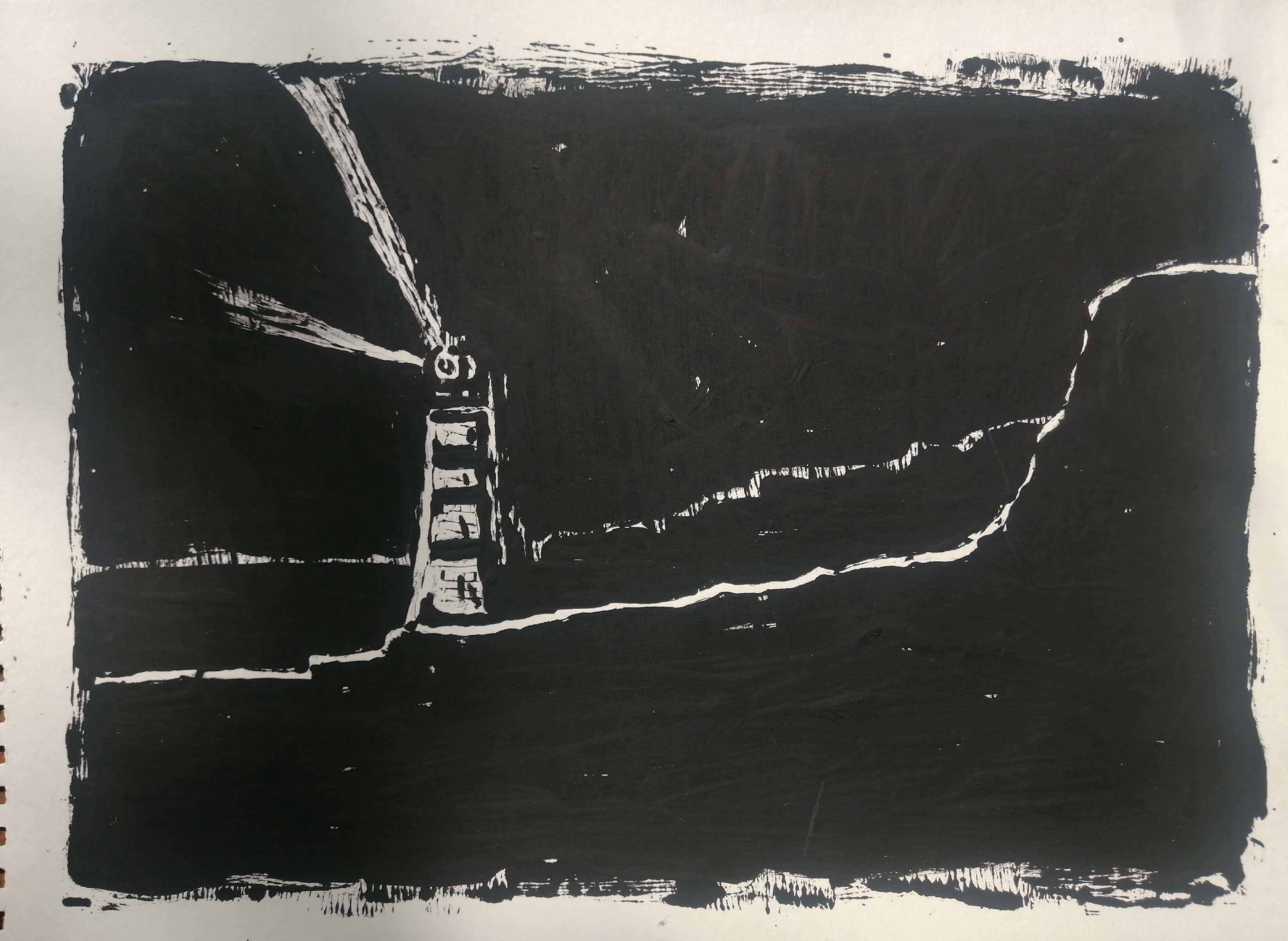 The artist lives and works in the town of Baao, Camarines Sur, where brownouts are a way of life. These power interruptions have also led him to the creation of his wax sculptures, hand-hewn from burnt candles that themselves give light to the dark. Used as both utilitarian objects to guide tasks done at night and as silent instrumentation to the murmured prayers of devotees punctuating the pandemic, the abundance of candle wax has served as both inspiration and material for the artist. He buttresses the salvaged candle wax drippings with tin foil, wood blocks and plywood strips, bamboo skewers, and plastic straws, creating vaguely humanoid figures melted and molded by heat, transforming them into groveling, curdled, and mollified goo-creatures tempered by air.

Whether standing, walking pierced with stakes, or crouching on all fours, Grutas collectively names these sculpture pieces Nilusaw sa Liwanag, Binuo sa Dilim (Melted in Light, Brought Together in the Dark) as both odes to flame and acceptance of circumstance. The artist knows that sculptors seldom use the medium due to its plasticity depending on temperature and, over time, will seize into objects of exceptional brittleness; he takes ephemerality at heart, contradicting the common notion of art being both beautiful and enduring.
From sparks of little light to an aspiration towards piercing brightness, Dacaymat and Grutas in Heavy Light are familiar with inscrutable denseness but do not claim a monopoly. Their pieces offer hope in their ways, tired but not bereft of any remaining ambition for change. Perhaps it is an invitation to delve into darkness even further, dissect and revel in it, find whatever glint remains in our consciousness and bring them together with others. Gleam might yet turn to glow and gather strength over time; a flicker fanned into flames might still grow into a blaze.