2020 is a year we all will never forget. It opened with quite a literal bang, the Taal volcano eruption and the outbreak of the Novel Coronavirus in January. It was a year plagued with crises, natural, political, and for many, personal. But it is also the year that proved that the Bayanihan spirit is very much alive in our country and that crises creates communities where there were once none. More importantly, it reconnected artists to their immediate communities, plugging them back to the reality of a shared mortal crisis, away from the isolated bubble of the studio and the artifice of the contemporary art scene.
It is notable that creatives and cultural workers were at the forefront of community-building outreach and relief efforts. Artists were active in organizing and collaborating with their local communities in establishing community kitchens and relief drives that fed and assisted thousands of Taal evacuees, frontliners and locked down neighbors during the pandemic, as well as typhoon and flood victims in Cagayan, Quezon, and Bicol. They donated artworks to raise funds for Taal victims, for typhoon victims, for jeepney drivers, for red-tagged mothers like Amanda Echanis who breastfeed their babies in jail. They designed and donated DIY Personal Protective Equipments (PPE) for COVID-19 frontliners. They even wrote poetry and sang songs to thank and boost the morale of overworked and underpaid doctors, nurses, and hospital staff. They started community pantries where each one gives according to their means so that everyone can take what they need. Their creative response has catalyzed a compassionate trend nationwide and empowering communities to take care of each other.
It was a case where Pandama (sensitivity) translated to Pakikiramay (compassion). This reminded me of a talk by Eileen Legaspi-Ramirez wherein she defined Aesthetics as Pandama as opposed to Panlasa or merely "taste", describing art or aesthetic experiences as encompassing sensual (seen, heard, felt, tasted, smelled) sensations as well as socio-cultural relations (sensitivity, consideration for others). Artists, due to their sensitive nature cannot help but be bothered and moved to action by the plight of their neighbors, their communities. Throughout the various crises, compassion became an eloquent expression of aesthetics, and a weapon of choice by asserting to act with dignity and grace in creating order and harmony to combat politically motivated chaos.
Interestingly, artist-run initiatives, spaces, and residencies also sprouted during these time. One such space is the Linangan Art Residency in Alfonso, Cavite. It is in the fertile soil tilled by the pandemic and fertilized by the lockdown-imposed isolation that the seeds for the Linangan program were sown. Nestled in an ecofarm, it started with 1 resident artist, Noel Elicana from Iloilo and ended up producing 9 graduates hailing from Aklan (Joen Sudlon), Samar (Lorebert Comision), Romblon (Jonathan Madeja), Mandaluyong (Rogermond Borja), Caloocan (Emard Cañedo) and Antipolo (Carlmel Belda, Ram Castillo and Mackhenzie Eparwa) by the end of 2020. To date, it has 20 graduates and is expanding to accommodate more artists.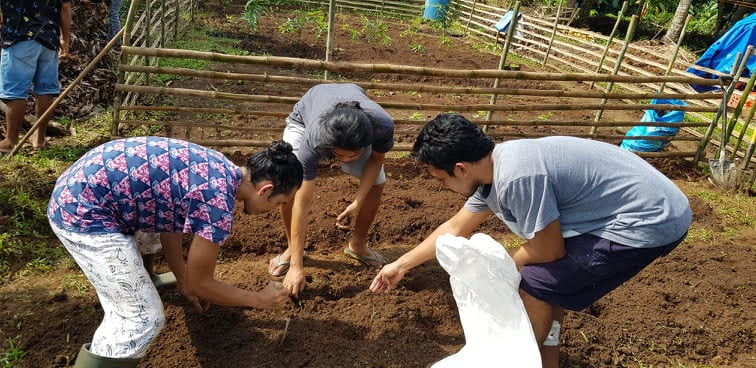 The pandemic crises have fortified Linangan's assertion that artists should define a third option where they can create art and engage audiences beyond the limitations of the market and institutional systems. Its program cultivates the vital link between art and culture by emphasizing on art production that is rooted in and affirmative of community life. Its curriculum and space are designed to hone artist-leaders in creating contemporary art that is definitive of Philippine culture.
Aside from honing studio techniques and conducting art history classes that highlight the role of art in spreading ideas that shape society, resident artists are mentored through show and tell sessions in which resident artists explain and critique each other's works. Their daily routine is also designed to develop discipline, responsibility, and a sense of community. Residents and staff work together in preparing shared meals, doing house chores, cleaning the river, and tending the organic garden.
The Linangan is a continuing realization of an envisioned future as a collective. It is an alternative school and community where artists learn with and from each other and develop a bond that translates into collective identity. It is a platform for insightful social analysis that translates to conscious and empowered art-making. In it and through it, creating art is making beliefs concrete. Art is living culture being embodied.