Yeo Kaa isn't afraid to get real.
The Manila-based artist creates cruel worlds inhabited by vibrant characters as metaphors for the malaise young people grapple with today. She portrays these scenes through striking paintings and sculptures that have been exhibited across Singapore, Indonesia, and Germany. However, it's her installation at Art Fair Philippines 2023 that epitomizes her audacious spirit.
In her installation, entitled Drawings from my Kyeo Bible 2011 - 2023, over a hundred notebook-sized paintings hang in rows across an entire wall. The paintings, either square or rectangular in shape, depict colorful scenes of misery. In one painting, a girl sobs while scrubbing a toilet. In another, the same ingénue looks down from an airplane window, perhaps at the home she's leaving behind.
The installation's gridded format resembles our overwhelming social media feeds, where 94 million Filipinos spend approximately four hours of their day. Although, Yeo Kaa populates her so-called feed with images of private tribulations instead of triumphs. How does Yeo Kaa strike the balance between intimacy and publicity in the Internet age? And why does her installation resonate with many young adults today?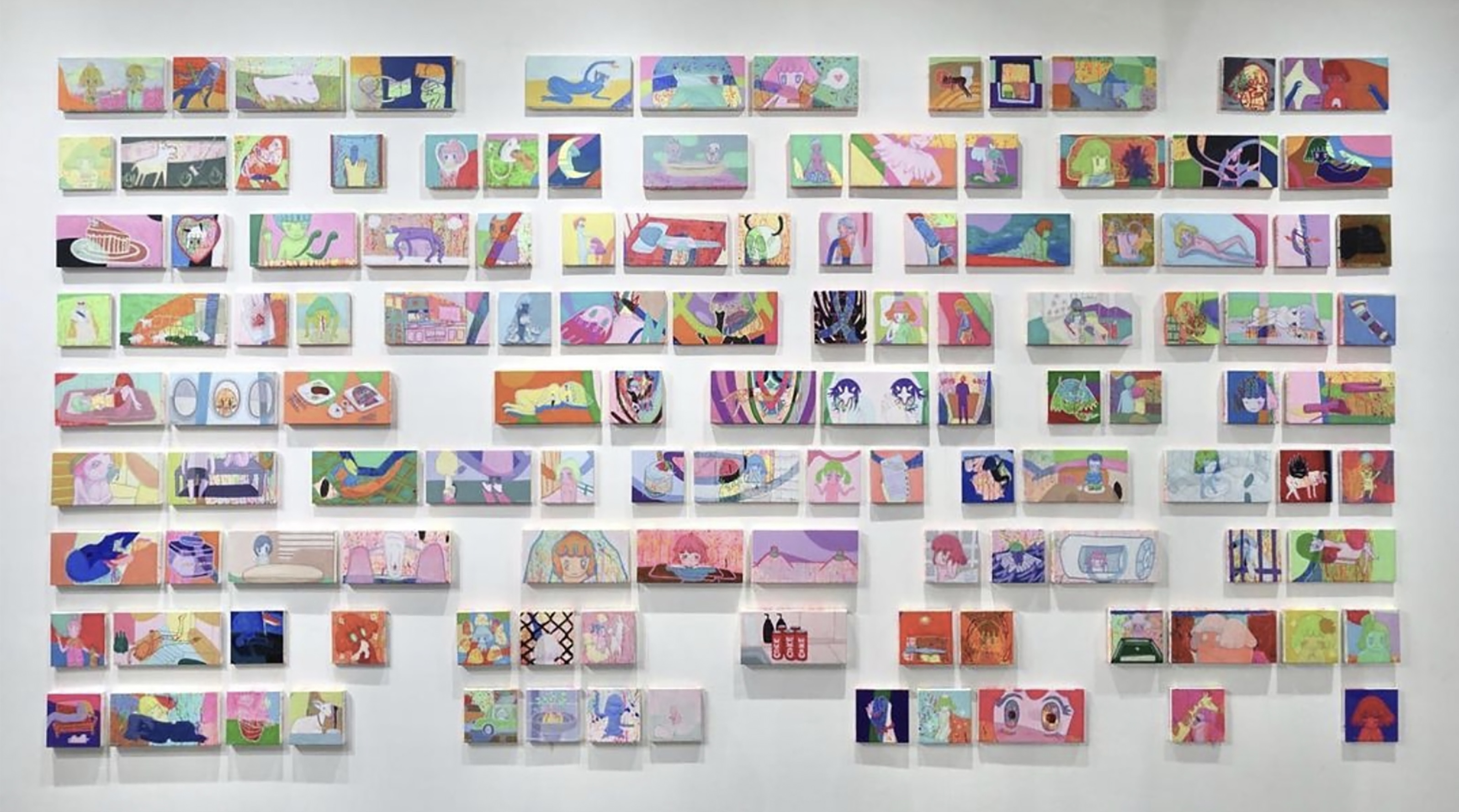 Craft
Yeo Kaa's euphoric style commands our attention. Her oeuvre focuses on a naked girl, brought to life by saturated colors and paint splatters. Upon first glance, her style reminds me of those of Superflat artists Yoshitomo Nara and Takashi Murakami. All three artists explore cynicism among contemporary youth through an anime-inspired visual lexicon. However, Yeo Kaa ventures into darker places where Nara and Murakami do not dare go.
Visual effervescence masks morbid subject matter. Yeo Kaa's older works usually feature blood, severed limbs, and the occasional noose. However, the artist favors subtlety in her Art Fair Philippines installation. In one painting, a couple sits in bed, their faces cropped outside the composition. The girl hugs herself in a fetal position, while the boy stands, about to leave — the death of a relationship. Despite the paintings' subtlety and lack of blood, these vignettes are difficult to view because they mirror our lives, allowing controversial topics to go undetected and penetrate the mainstream.
Confessions
Yeo Kaa nurtures her practice on Instagram, where she boasts a following of over twenty-nine thousand people. After visiting Art Fair Philippines, I scrolled through her feed. I came across a photograph of one of the paintings in the installation, a girl tearing up. I tapped on it, then swiped to a photo of the diary entry that inspired the work. The entry features Yeo Kaa's worries about mortality: "Kelan ba darating yung panahon na gusto ko naman mabuhay?" which roughly translates to "When will I start wanting to live?"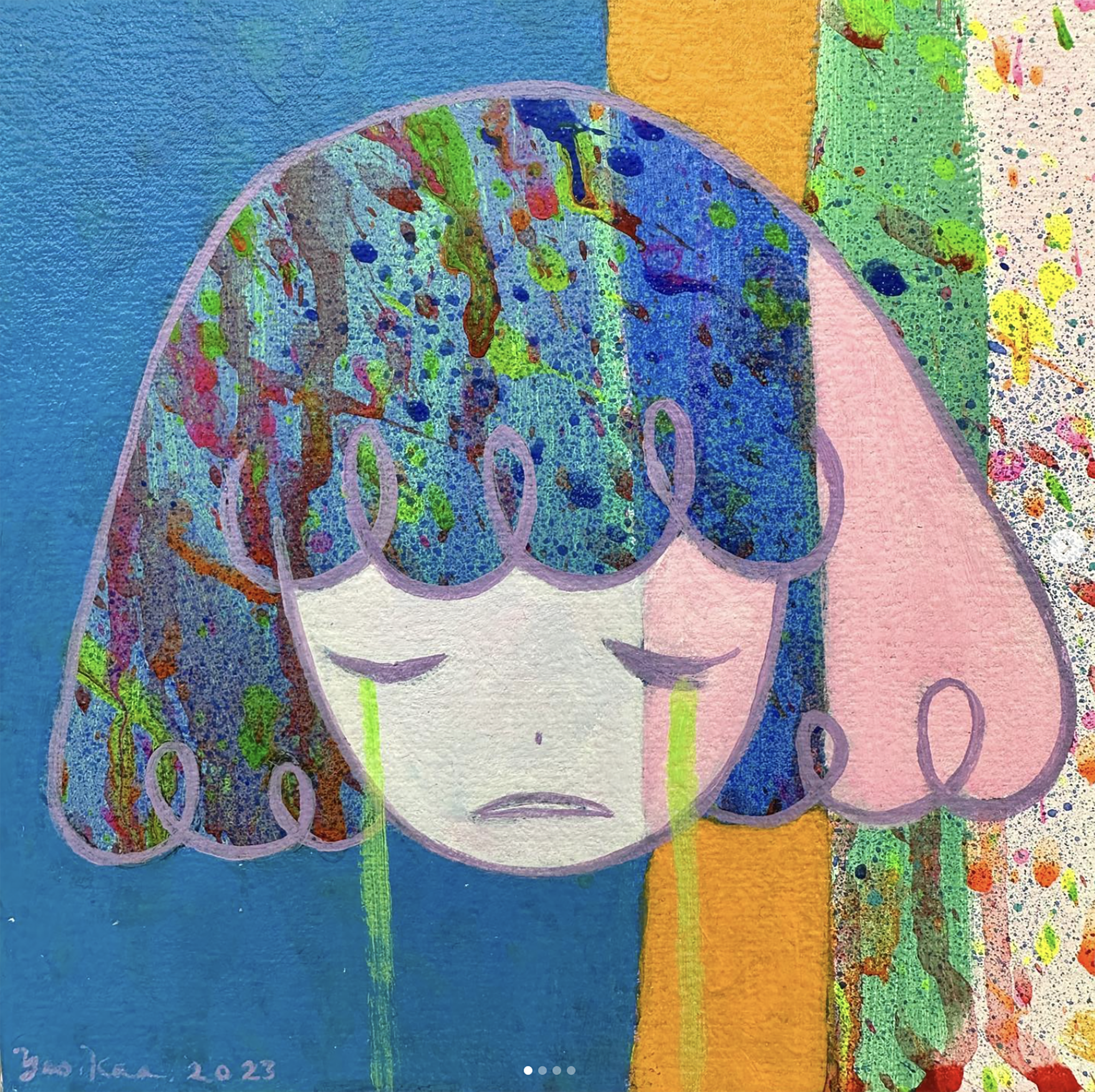 By establishing the relationship between her deepest thoughts and her installation, Yeo Kaa positions herself as part of a new generation of confessional artists. Confessional art involves the disclosure of confidential experiences, usually taboo topics, through artwork. During the late 1980s and 1990s, confessional artists, such as Tracey Emin and Sophie Calle, created works about sex, intimacy, and mental health to public acclaim.
Despite confessional art's breakthroughs, critics pan it for indulging artists in solipsistic performances. Extreme detractors even draw comparisons between confessional artists' charged revelations with celebrity publicity stunts. In his 1967 text, Society of the Spectacle, Guy Debord laments, "Everything that was directly lived has moved away into a representation." While the movement encourages vulnerability, criticism around it raises questions of whether these hardships are truthful, or fabricated.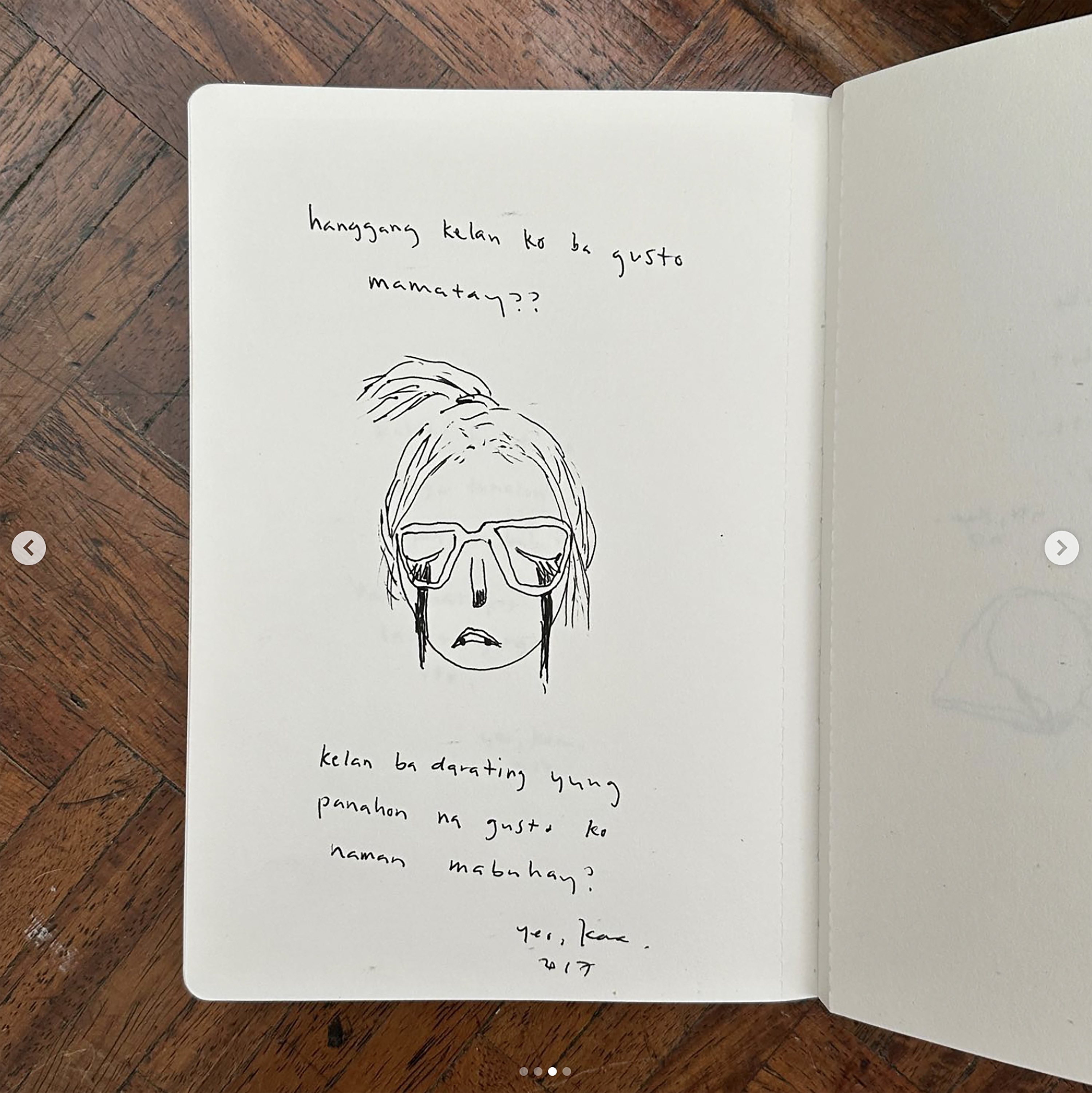 Today, blurred lines between performance and authenticity manifest on social media. We pander to the whims of friends, strangers, and elusive algorithms for external validation in the form of likes and comments. The proliferation of labels, such as "e-boy" and "pick-me-girl" on TikTok and Instagram heightens our tendency to define and, thus, limit our identities — making displays of off-brand sincerity precarious. We want to show ourselves, yet we don't want to take the risk of being scrutinized. How can we reconcile these opposing needs?

Connection
Further down in Yeo Kaa's Instagram feed is a photograph of Drawings from my Kyeo Bible 2011 - 2023, accompanied by giveaway mechanics in the description. For a limited time, Instagram users could win a porcelain sculpture by decoding the installation's secret message and commenting about their favorite painting.
This giveaway seems incongruous with Yeo Kaa's status as an in-demand artist, both domestically and internationally. However, it helps her relate to her audience by challenging the glossy finish of Instagram. Unfortunately for me, the giveaway ended by the time I saw the post, so I dove into the comments for spoilers.
Commenters noticed how the square and rectangle paintings form letters in Morse code. The arrangement spells out this message: "You are strong really strong I am glad you are here." With these words of strength, commenters poured in stories of how Yeo Kaa's paintings helped them overcome grief and release guilt.
Opening oneself online comes with a slew of perils, namely mockery and judgment — just look at all the Twitter feuds. Yet, with every risk comes a reward. Through her giveaway, Yeo Kaa shows us what's on the other side of risk. There are beautiful artworks, and more importantly, human connection and self-actualization in a culture governed by shame.
Courage
Whenever we post a story on Instagram, apply for a job, or ask someone out, we take a risk. We open ourselves to scrutiny from loved ones, strangers, and even robots. Afterwards, when we do face rejection, we retreat — fearful of leaping again.
In the age of spectacle and shame, the role of artists, like Nara, Murakami, Emin, Calle, and Yeo Kaa, is to take risks and embolden the rest of us to follow suit. Yeo Kaa's Drawings from my Kyeo Bible 2011 - 2023 presents risk's returns: community — online and offline. Now, it's our turn to overcome our qualms and embrace radical sincerity. Are we ready to take the leap?