This year, Art in the Park was held mostly online, with a one-day live event at Jaime C. Velasquez Park in Makati City. Socially-distanced booths dotted the manicured grass. And on the day of the event, one corner was especially popular with families and children. On one side of a long wall was a man spray painting graffiti live; on the other side was a series of giant, cartoonish bald heads sprouting from the dirt—each one painted in bright colors, spewing bulging eyes and lolling tongues.
This was part two of Monster Mayhem MegaMash, an ongoing project by street artist Miguel Antonio (also known as Distort Monsters). Antonio's practice involves bridging traditional and digital art as he plays with three mediums: two-dimensional murals, three-dimensional sculptures, and Non-Fungible Tokens (NFTs).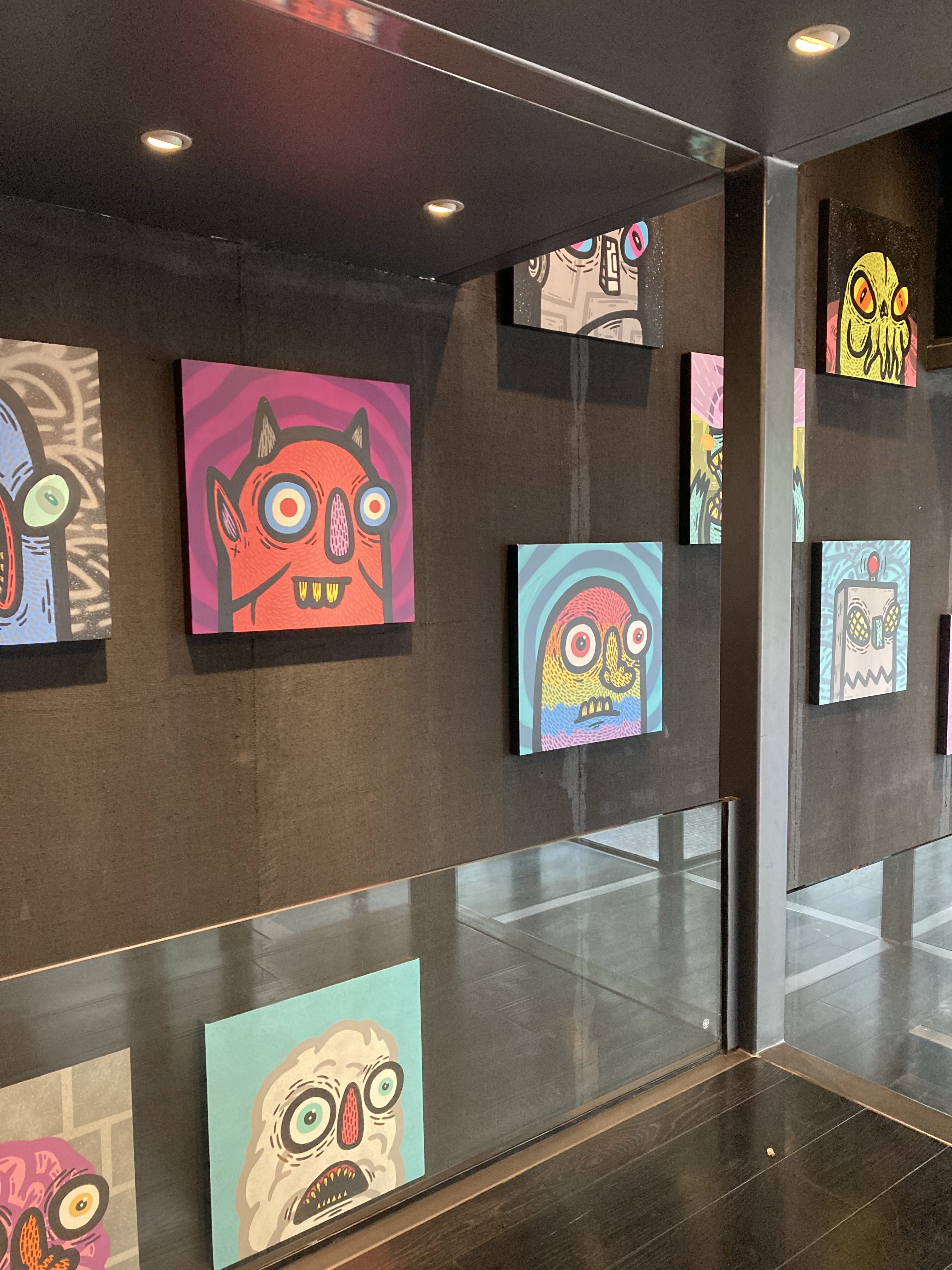 Antonio's monsters were sold as giclee prints with unique QR codes that led to a randomized NFT. Neither the owner nor the artist would know the monster's appearance until they received the print. Antonio's project partner programmed an algorithm that assembled the creatures based on combinations of pre-designed physical traits.
As a street artist heavily involved with skateboard and punk rock countercultures, Antonio's NFT project might seem disruptive. "Come make mayhem!" his website invites the reader. From the lower price points of Art in the Park, to the global reach of the NFT marketplace, it could be read as an attempt to leave the walls of the elite, close-knit gallery spaces and gain wider accessibility. After all, in this digital age, NFTs are the shiny New-Fangled Thing. They come in all digital file formats. The marketplace is decentralized, there are no middlemen in sales, and anyone can validate transactions and see proof of ownership. In 2021, Art Fair Philippines partnered with the ironically named Narra Art Gallery, a Philippine NFT art museum. The Crucible Gallery also auctioned NFT artworks this year.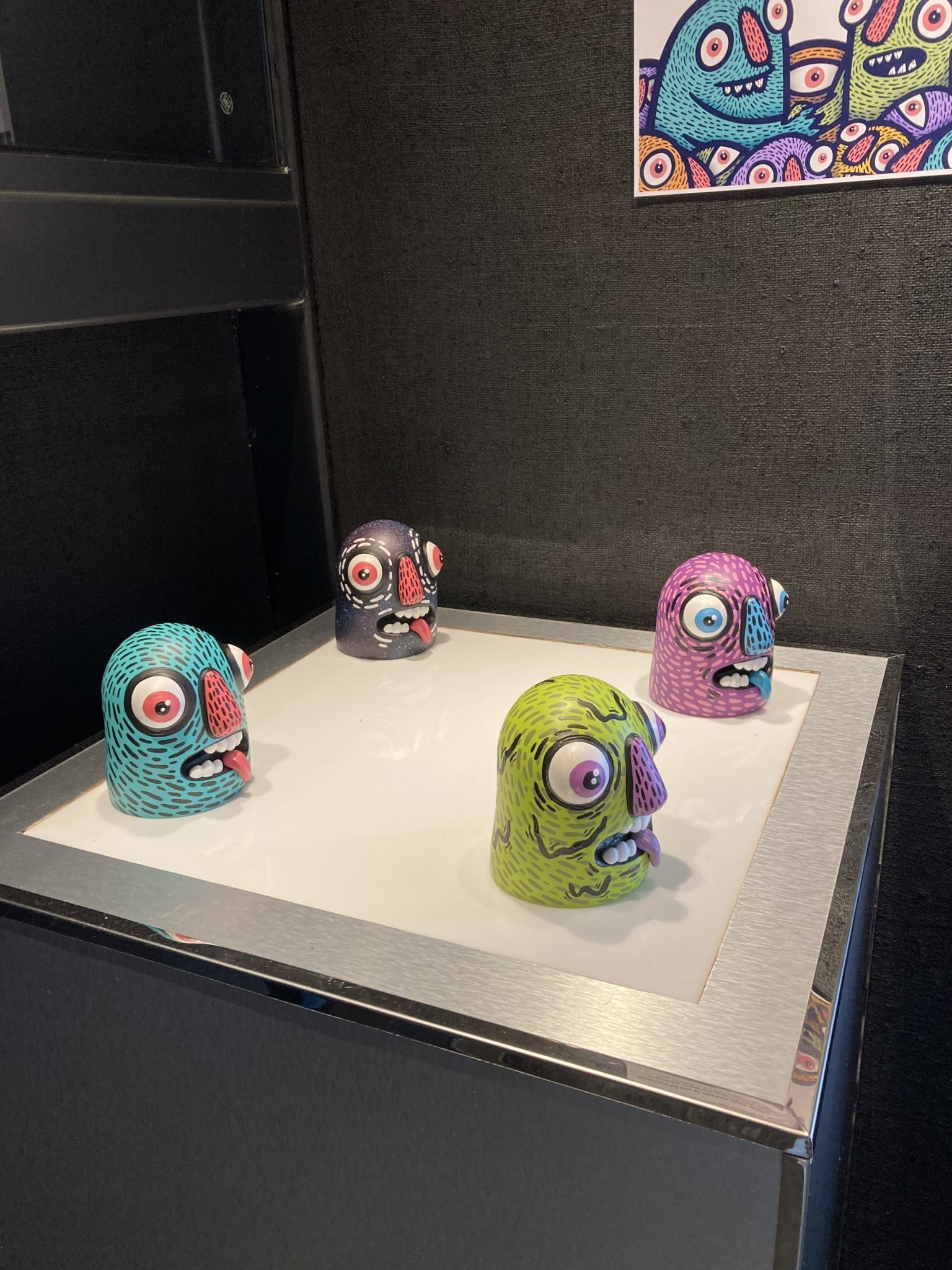 Now, in the Roaring Twenties of the twenty-first century, with the world still reeling from a pandemic, war, and the rise of authoritarian leaders across the globe, perhaps it makes sense to shed the weight of the insular art world and look forward, look virtual. But we cannot hide in the metaverse while the world burns around us.
NFTs are notorious for their gigantic carbon footprint. French artist Joanie Lemercier noted that the one-time sale of his six NFTs consumed as much electricity as his studio did in two years. Any activity on blockchains uses massive energy, but with the art world piling on NFTs, it will only get worse.
Manila, among other Asian coastal cities, is sinking rapidly. A Greenpeace report states that up to 1.54 million residents will be displaced by floodwater by 2030. Unpredictable high temperatures and typhoons also ruin crops and fisheries, thus leading to food insecurity. The climate crisis is not a hypothesis; the climate crisis is here.
Miguel Antonio mints his monsters on the Solana blockchain, which has the smallest environmental footprint. Other blockchains have also begun shifting to more environment-friendly minting processes. But it might be too little too late, akin to throwing a bucket of water over a forest fire.
Additionally, the NFT business isn't any more accessible than sales of physical artworks. To purchase NFTs or participate in any businesses in the metaverse, one needs to use cryptocurrency. This highly volatile digital currency without any intrinsic value, one that has no basis in gold or any real life reserves, is only recognized by one Philippine bank to date—Union Bank. In fact, it's so volatile that the crypto market crash this May rivaled the 2008 Financial Crisis, according to the Bank of America.
If the future of art is accessibility and democratization, then it requires more than finding new platforms for business. True accessibility means accommodating people's lived reality, whether they intend to purchase artwork or not. True democratization means that art communities cannot make the decision to hasten the climate crisis on millions of citizens' behalf. A hundred years from now, what is there left to be painted, who is there left to paint, when Manila is reclaimed by the sea?