Symptoms of Contemporainety or Symptoms of Restrictive Nostalgia?
Symptomatic tendencies towards assertions for new discourses emerging in contemporary Philippine art could initially perceived through Wawi Navarozza's Self-Portrait with Bricks.Part of the catalogue of a currently ongoing exhibition at the Metropolitan Museum of Manila laid down as The Philippine Contemporary, this denotes the role of the younger generation seeking to find their voice complemented by the promiscuity of the present and leanings towards initiating discourses embodying the a pulse of the "now."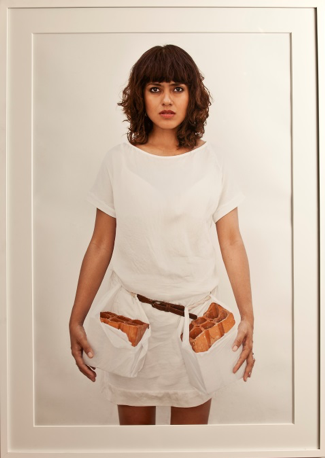 In the bigger picture, the question that begs to be asked is where does retroactive rethinking posit a progressive elsewhere for contemporary Philippine art or does it just become armchair nostalgia or nostalgic kitsch (or even sentimental kitsch)? Surely, nostalgia can offer prospective elsewheres but at the same time it could drag oneself into the trappings of time that ceases to acknowledge the dynamic shifts taking place in contemporary society and consciously situate a bias on the novel.
Going back to Navarozza's self-portrait with bricks, this image manifests the burden of history as against contemporainety vis-à-vis how the past facilitates a complex domain of armchair actualities? Does this burden need to even be there especially at the height of how exchanges are progressing nowadays through digital technologies or should we always use history as a default justification of not wanting to push boundaries? Or is it simply intermingling the outmoded with what is contemporary?
Of Nostalgia and Sentimental Kitsch
Gesticulations of sentimental kitsch could be easily felt through the exhibition. Perhaps, what particularly becomes a stronghold of tracing contemporary art is to avoid its likely tendencies to seem like a caught-up throwback but more of one that references the past into the adjunct of a more progressive present and an even more progressive future. Although in a time wherein almost everything has been done and as we continue to find ourselves in the aftermath of Duchamp and Warhol, how could something like painting continue to embody the sensibilities of what is contemporary?
In the language of the multi-hyphenated in contemporary art, painting can only do too much. In enforcing the contemporary, crucial mediums that could have been developed further would be photography, video art and installation over the overbearing so-called autonomy of painting that continues to shape Philippine art in general.
Fragments of Irreverence
In the words of Michel Mafessoli, modernism is to all things dramatic while postmodernism is tragic but somehow contemporary times is a marriage of the two but going overboard on the dramatic tendencies of the modern into the contemporary is also troublesome. But categorically speaking, definitions and labels are never constants but rather persistent volatile actualities that show the dynamism operative within language as against the never-ending shifts in our societies and in culture especially in tune with the present and the future.
Nostalgia at one hand could offer prospective elsewheres yet at the same time drive us into this state of stagnancy. Although over time, irreverence has always had a triumph to combat flat-thinking, There are fragments of the exhibition that pays on contemporary art's sometimes discreet to vulgar charm working along with puns and a certain taste for disrespect. It's much like those Mabini paintings installation by Alfredo and Isabel Aquilizan positing kitsch into a contemporary derision. Recontextualizing contexts with irony is a triumph of contemporary art and so it does with this installation by the Aquilizans as something derogatory gets reworked into a discursive actuality somewhere between irony and renegotiation of the value of Mabini paintings.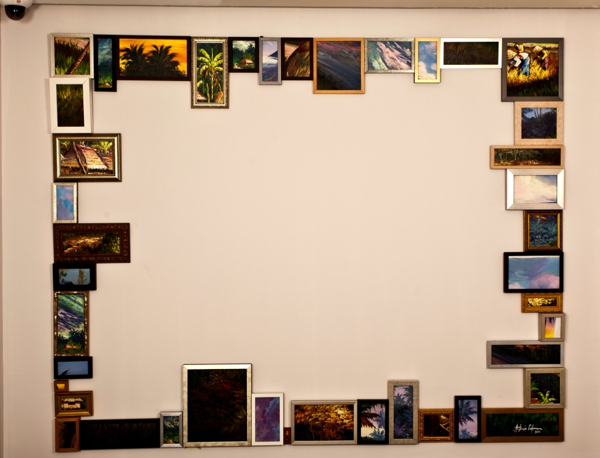 Imminent exploration of texts and the elsewheres they could try to situate through the medium of language find themselves through that work of Lani Maestro entitled Stillobscured in one corner of the exhibition, laid out as if it was almost like an exhibition label or a series of texts like a faint whisper. And somewhere along it lies a series of text-based works by Maria Isabel Cruz that state phrases like: Open Your Soul to Me, Tommorow May Never Come, Is Winter Here to Stay. These are a handful of phrases that operate on a deceptive simplicity yet the power of textual works is how they go along with the transgressive mode of language that is time-sensitive and also adjusts itself to the culture of a certain epoch and are bound to always change.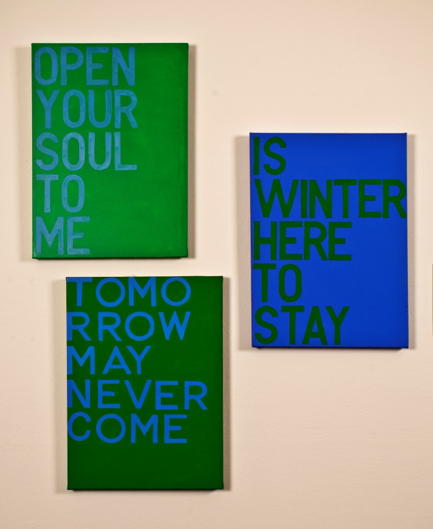 Into a State of Collapse
In this regard, this essay works its way through the contention of the overbearing presence of paintings in favour of more dynamic works that are not fraught by the burdensome and at times oppressive outlook of Philippine history. Alongside this, the aesthetic that goes along with these often is associated to painting and all those different trajectories often with Marxist and Socialist leaning are forsaken towards embracing how these actualities whether they may or may not initiate themselves through factors crucial in the language of contemporary art—the null, the indiscriminate, the global, the constant presence of technology altering artistic modes of production and expression, and how the art market stirs in multi-faceted optics to further work on the definition of the contemporary or at that the so-called Philippine contemporary.
In a manner of speaking, going through pieces in a non-coherent way and a non-linear way is a way to interject my own specific grasp of the contemporary which I'd like to pursue while at the same time contest in the process. And so, Gina Osterloh's Collapse, images cut out and put together again designate this discourse that should find itself operative in tracing the Philippine contemporary as an ongoing process and not an art historical enquiry that starts at a particular time and comes into different periods and only the present is left open-ended. I leave the crucial aspect of this enquiry as leaving the overlapping of these periods that make up Philippine contemporary art as non-restrictive and non-exclusive entities in a constant state of integration and openness and ambiguity.